Expanding Customer-Facing Medical Teams Beyond MSLs
Right Target. Right Message.
A truly patient-centric Field Medical strategy in means evolving your existing Medical Affairs engagement tactics beyond traditional KOLs.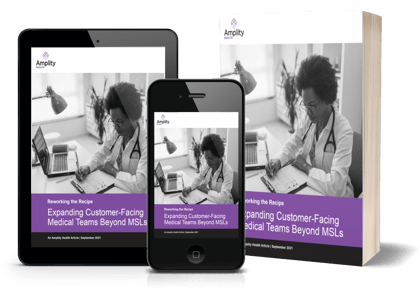 The COVID-19 pandemic only accelerated HCP and KOL access issues. The time has come for Pharma to apply a nimble approach to the design of their customer-facing Medical teams.
This includes:
Identifying and defining an agile, nimble strategy to navigate the post-pandemic era


Building teams that blend field-based and remote experts to engage right-first-time with targeted customers


Expanding reach and maximizing engagement by embedding new, innovative roles into your existing customer-facing Medical teams
Click below to begin download.
You just took the first step in evolving your customer-facing Medical strategy to meet the growing needs of your customers. Let Amplity be your true partner in maximizing the utility and value of your Medical Affairs strategy. When you're ready to begin strategizing on a customized plan, click here to speak to an Amplity Health specialist.